Reclaim the Power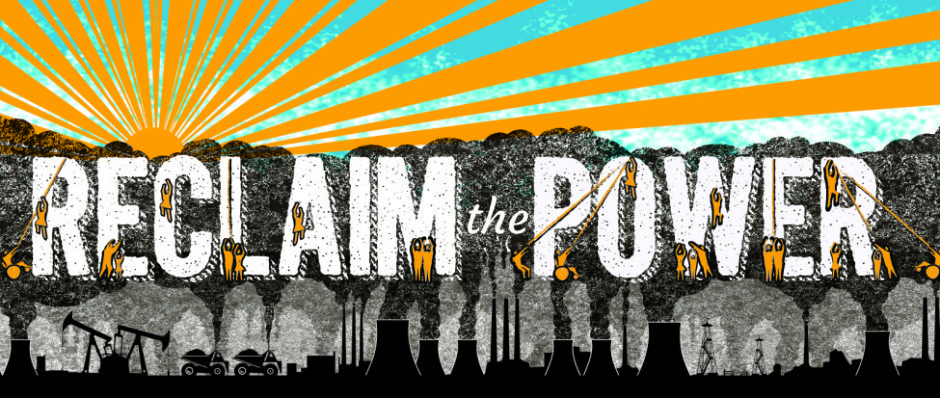 Action Camp, 16-21st August, Balcombe
Organised by No Dash For Gas, supported by Campaign against Climate Change
In response to a call for support, Reclaim the Power is now being held in Balcombe, Sussex, where the community has been actively opposing fracking!
Full programme now online! Come for the whole camp - or visitors are welcome. A wide range of exciting workshops are planned on the Saturday.
On Sunday 18th August at 3pm there will be a march for a Frack Free Future:
From Balcombe rail station to Cuadrilla Site.
You are warmly invited to join communities facing the threat of fracking, and residents of Balcombe, on a family friendly march to the Cuadrilla site. They will be carrying symbols of the sustainable future that they want to create in place of community threatening, climate changing, ecologically damaging fossil fuels.
All welcome.

Bring your visions of a sustainable alternative.
Bring your hope for a frack-free future.
Bring your voice calling out for change.

The march will be held on the 25th day of the on-going Community Protection Camp outside the Cuadrilla site. There will be a day of mass action against Cuadrilla on 19th August. Join the direct action training from 9am on Sunday 18th August.
Transport is being arranged for communities affected by fracking please email info@frack-off.org.uk for more information.
In December last year, the Government announced plans to approve the building of 30 new gas-fired power stations. Despite overwhelming evidence that we're rapidly heading towards catastrophic climate change. These plans rip up the Government's own legally binding commitments to reduce carbon emissions; they will actually make us even more dependent on fossil fuels in 2030 than we are now.
In reaction to this 21 activists scaled the West Burton EDF Power Station chimneys shutting down the whole power station and preventing 20,000 tons of CO2 being released! EDF tried to sue them but had to drop the law suit because of the overwhelming public support for the activists including a petition gathering 64,000 signatures.
But the fight is not over, the movement needs to get bigger. This is why No Dash For Gas is organising this protest camp, to strengthen the ties between grassroots environment groups, forge vital links with anti-austerity campaigners and to get everyone together to take real action against the dangerous new dash for gas and the culture of corporate power!
To learn more about Shale Gas and the UK government's plans, check our 10 Fracking Facts blog.
You can find all the information for the camp on the Reclaim the Power website and on the facebook page. 
Date:
Friday, August 16, 2013 - 11:00

to

Wednesday, August 21, 2013 - 11:00